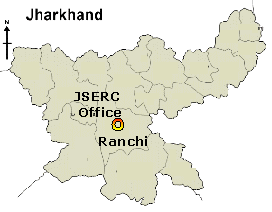 Jharkhand State Electricity Regulatory Commission was established in the state of Jharkhand under provisions of Electricity Regulatory Commission Act 1998 (now Electricity Act, 2003) for regulating this sector.
Office of JSERC is in Ranchi, capital of the State of Jharkhand. The location of the office in Ranchi is indicated below in the Location Map.
---
Location of JSERC Office


" Reform in the Power Sector aimed at by Electricity Act 2003 by abolishing the monopoly and strengthening the Consumer "